YOUR EXPONENTIAL PRACTICE PODCAST
Listen to all episodes of Your Exponential Podcast on this page.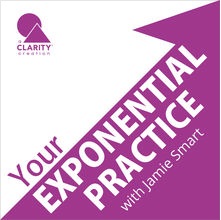 Sunday Times bestselling author, executive coach and speaker, Jamie Smart, hosts Your Exponential Practice Podcast. In this show he interviews transformation professionals (coaches, therapists, trainers, consultants, nutritionists etc) to uncover the key insights, realizations and distinctions that you can use to grow your practice, have a bigger impact on your clients and live a life you love. Jamie Smart's books include the number 1 bestselling CLARITY: Clear Mind, Better Performance, Bigger Results and The Little Book of Clarity. His new book, RESULTS: Think Less, Achieve More (foreword by Shaa Wasmund MBE) became a Sunday Times Business Bestseller in December 2016.