"What happens when you imagine being recession-proof, with real resilience, prosperity and peace of mind?"

You're about to discover just that when you download this brand new FREE audio…

Hi,
It's Jamie Smart here.
Amid speculation about a "triple-dip" recession, the economic climate is an understandable concern for many people. Every day, the papers carry stories that fuel people's fears and anxieties. But there's a medieval superstition in all of this that gets routinely overlooked by the news media. This widespread misunderstanding determines how we get impacted by the ups and downs of the economy; it influences the options we see, how we feel and how we respond.
Recession-proof Living with Jamie Smart: Prosperity, Resilience and Results


In this FREE entertaining and insightful audio session, Jamie's going to go take you down the rabbit hole as you…
Discover the hidden trap that stops people experiencing real security & peace of mind (there are multi-millionaires who STILL aren't experiencing a feeling of security, because they're caught in this trap).
Start letting go of stress, worry and anxiety as you begin to see through the life-sapping superstition that keeps most people struggling to live a life they love. (The moment you start becoming aware of this simple misunderstanding, you can start tapping in to the source of true prosperity).
Learn about the covert conditioning that makes most people get anxious & frightened if they think their financial security is at risk, resulting in poor decisions and panic responses.
Tune in to the unsuspected resource you've already got going for you. You see, the source of real resilience is in the last place you'd expect to find it. I'm talking about the kind of deep sense of security that lets you know you're going to be OK, no matter what.
Realise that it really is possible for you to have true peace of mind, regardless of your external circumstances.
Discover one of the most powerful truths about attracting clients. Many business owners accidentally spray themselves with "client repellant". You're going to find out how that happens, and how to avoid it.
Start getting a feel for recession-proof living as you find yourself worrying less, and creating more. As you start letting go of unnecessary stress and strain, you can wake up to the source of true creativity… the place where all prosperity comes from.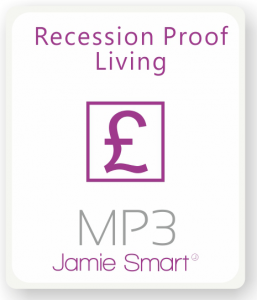 Just enter your details right here on this page and you will receive an email with the download link
To your enlightened success!
Jamie Smart
p.s. The high-quality, FREE information you're signing up for here is our gift to you, no strings attached. There will be more great content to follow, and if you feel inspired to explore this area more deeply & take it further, we'll show you how, with paid-for products, live events & the like. As you may know, I provide massive amounts of high-quality, free information to hundreds of thousands of people around the world, making a positive difference in their lives. When you buy a product, book a place on a live programme, or share this page with a friend, you're playing YOUR part in making that possible. Either way, I hope you enjoy this gift.