Released on July 17th, 2020
In this week's Friday Shot of Clarity, we're going to explore Multiplier Number 3 – Authentic Leadership.
This 'multiplier' is the third in a series of articles taken from a tool and a short book I created a few years back for helping people grow their professional practices. It covers 10 'multipliers' that can amplify the impact and results you're creating in the world.
And while I created it with coaches, therapists and other transformation professionals in mind, I've had plenty of feedback from people outside those professions telling me how useful it is.
See, whether you're a transformation professional or not, you're going to discover that these 10 multipliers apply to almost everyone (at least, with a little creativity).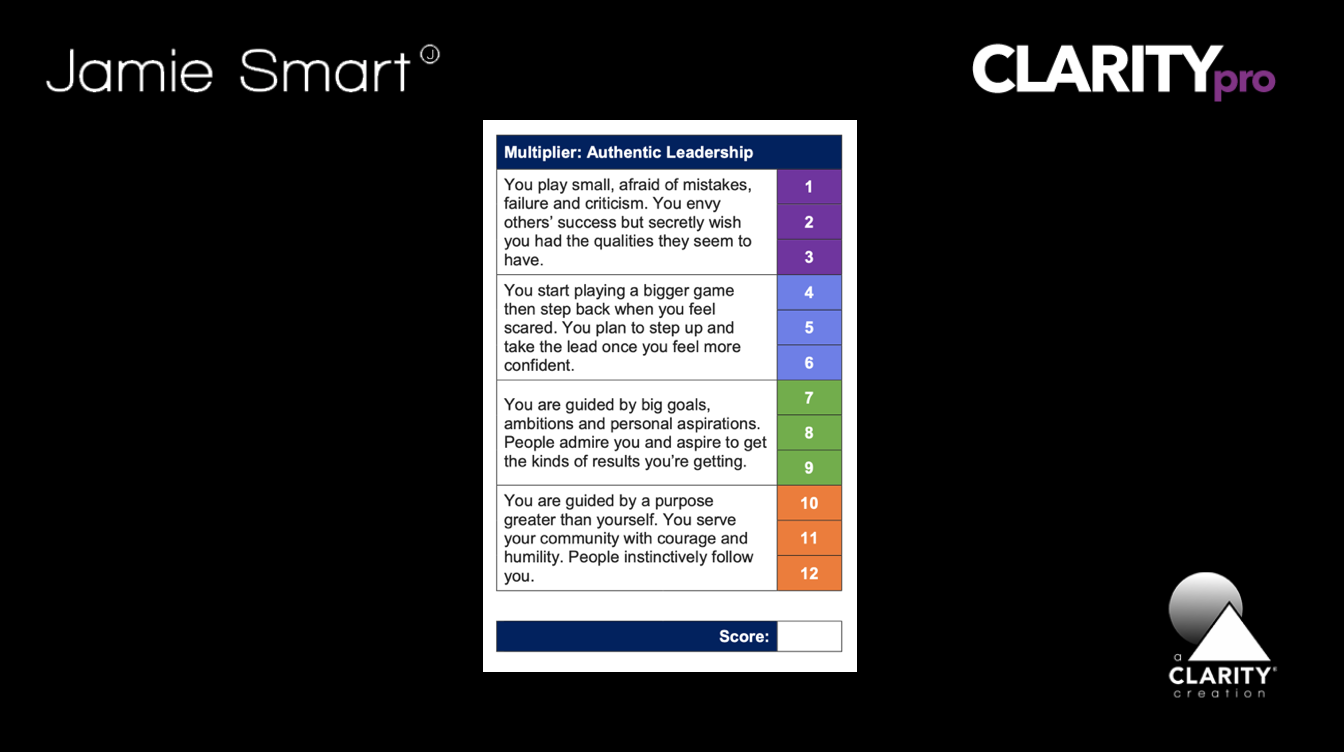 Multiplier Number Three: Authentic Leadership
Professional practice multiplier number three is Authentic Leadership. A way to think about this is in terms of what you might call classic leadership qualities such as a sense of purpose and direction, courage, willingness to be criticized, ability to make good decisions as well as a sense of humility and service.
In row one, you play small, afraid of mistakes, failure and criticism. You envy others' success but secretly wish you had the qualities they seem to have. Even if you've been in the "stuck" row until now you have good reason to be hopeful. Everyone has the source of authentic leadership within them, including you. It's just a matter of starting to clear out the things that have been getting in the way until now.
In the second row, you've started taking action, being true to yourself and showing up in a bigger way. You start playing a bigger game then step back when you feel scared. You plan to step up and take the lead once you feel more confident. Now, here's the thing: Everyone gets scared or feels insecure from time to time. The idea that "I'll do it once I feel more confident" is just a trick of the mind. Authentic leaders often take action and move forward despite feeling anxious or insecure. Courage isn't about waiting to feel more confident. Waiting to feel more confident is like waiting for the room to warm up before putting logs on the fire. Courage is about taking action even when you feel insecure, even when you feel anxious.
In row three, you're guided by big goals, ambitions and personal aspirations. People admire you and aspire to get the results you're getting. This is what you might call the standard model of success. Sometimes when I meet people who are in this space, they feel like there's something missing. For instance, they achieve their goals and have a kind of, "Oh, that wasn't it either" reaction. They proceed to set the next goal, and the next goal and the next, always chasing a feeling of fulfilment and satisfaction because they intuitively know there has to be something more.
That brings us to row four, the exponential row. You are guided by a purpose greater than yourself. You serve your community with courage and humility. People instinctively follow you.
This is something you'll find in all great leaders, but everyone has the source of these authentic leadership qualities within them, including you. The way to make progress and improve in this practice multiplier is to be courageous. Start speaking your truth and allow your sense of direction and purpose to find you. Embrace your uniqueness and be true to yourself.
The quickest way to uncover these qualities is to clear out the contaminated thinking that's been getting in the way until now. Once the fears, anxieties and superstitions start to disappear, the things you seek emerge to take their place: courage, purpose, authenticity, wellbeing, peace of mind, clarity.
A great example of this is bestselling author Chantal Burns. Chantal was one of the first coaching clients that I shared the principles behind clarity with. She really saw the power and impact of this understanding, and went "all in" with it.
At the time, one of her dreams was to create a leadership school, and in the years since, she's followed that sense of authentic leadership.
She teaches and consults all over the world, has written the number 1 bestselling book Instant Motivation and the Conscious Leadership School is now a reality. All of this is a result of her nurturing that sense of authentic leadership (and continuing to listen to her own voice and vision).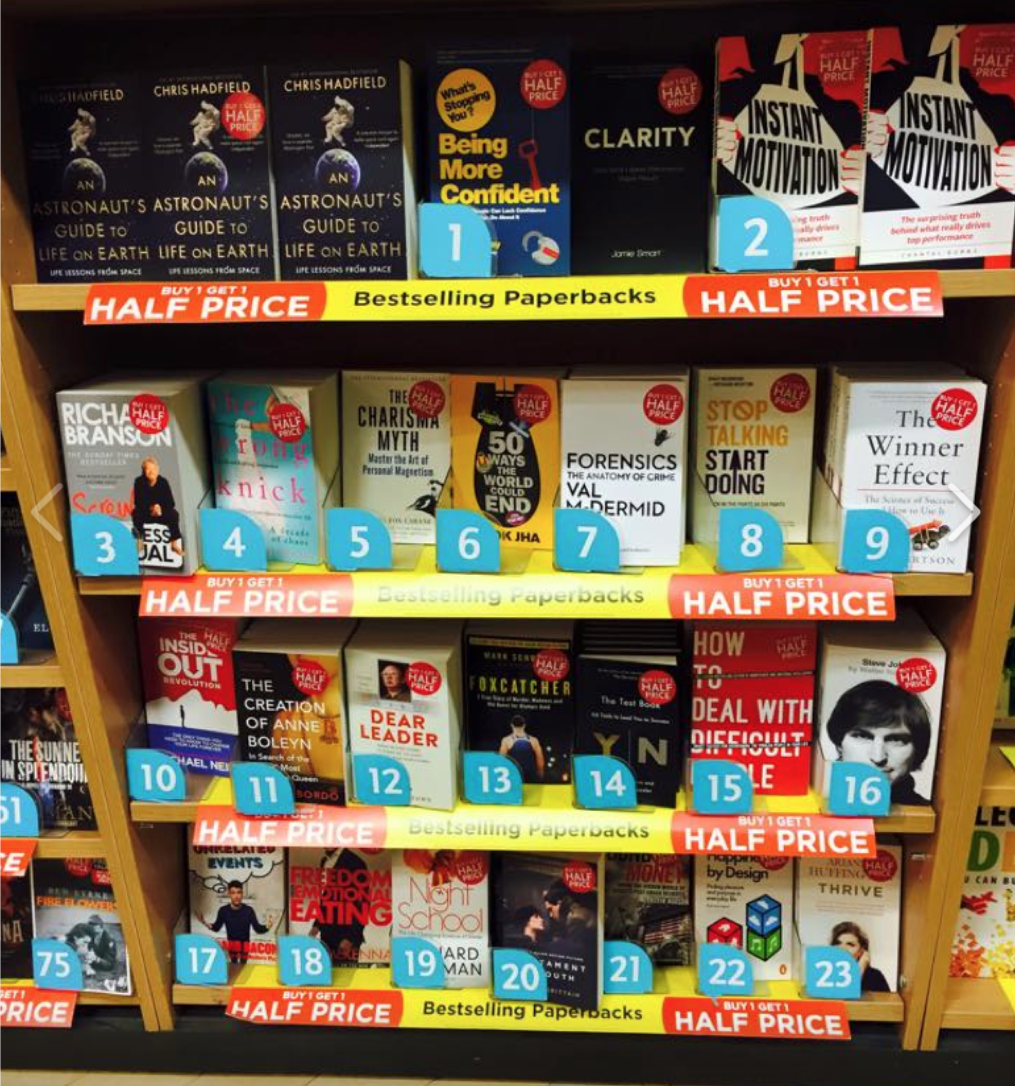 Another great example is Sam Jarman. Sam is a golf pro and when I started working with him he was doing the same as most golf pros, charging by the hour for lessons and stressing about how to pay the bills.
As we worked together he started using his understanding of the inside out nature of the mind in his teaching and started getting spectacular results with his clients. He decided he wanted to move to a package model, something that was largely unheard of in the golf pro world. Lots of people say, "I can't do that because no one else does" but it's the willingness to do it despite fear of criticism or standing out from the crowd that's the essence of authentic leadership.
It's now a few of years since we started working with Sam. He's written a ground-breaking book about the golf mindset, called The Three Principles of Outstanding Golf and has completely transitioned to a package model. In fact, he's now starting to coach other golf pros on how to make this transition. This is a great example of authentic leadership.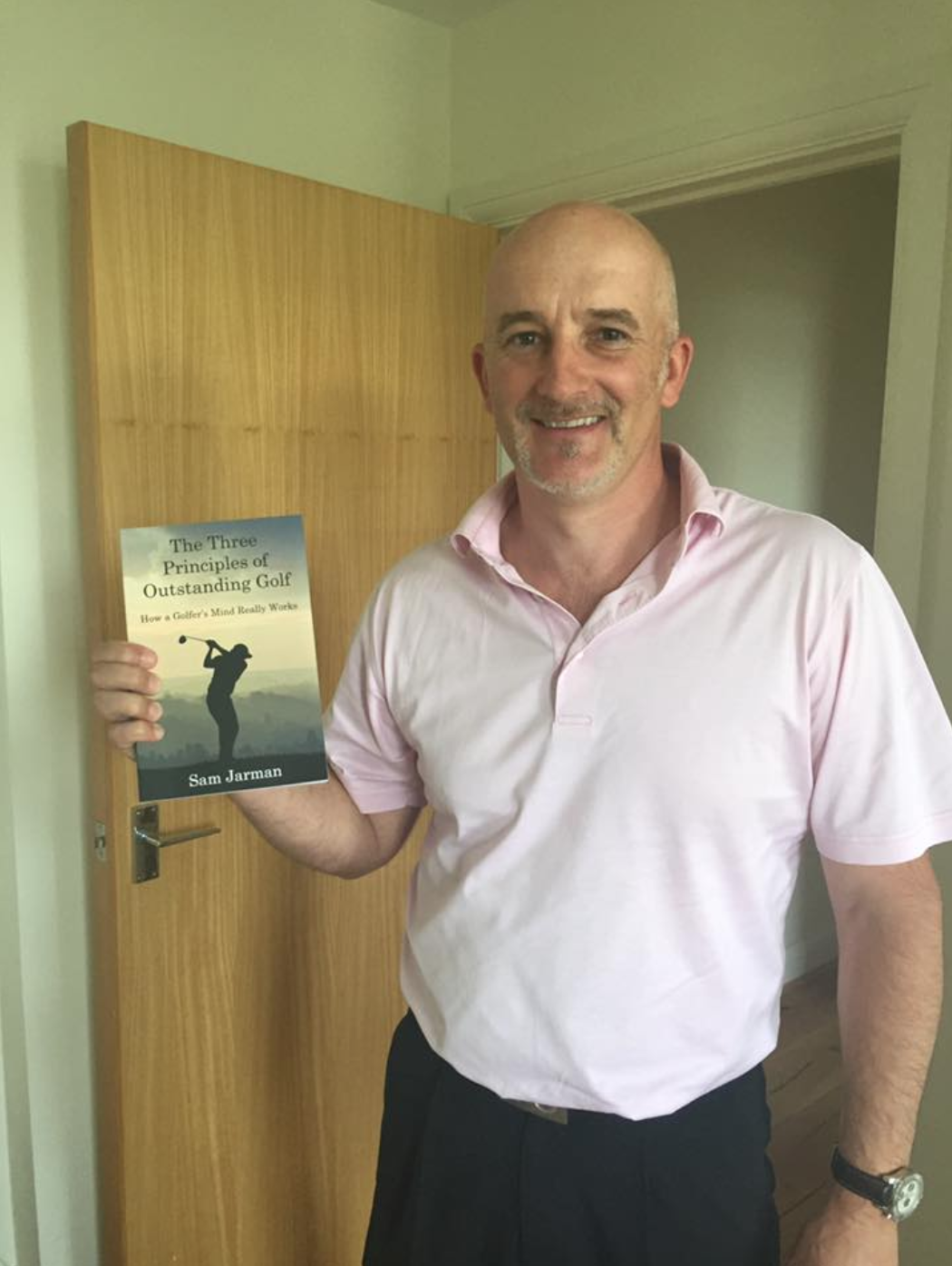 In his book Exponential Organizations, Angel Investor Salim Ismail and his team explored businesses that were growing at an exponential rate such as Airbnb, Netflix, Uber; these each doubled the size of their businesses in 2015.
One of the qualities identified in his book is that all the exponential organizations share a massive transformational purpose (MTP).
You may know some of these: TED's massive transformational purpose is to spread ideas. Uber's MTP is to evolve the way the world moves, Kickstarter's MTP is to help bring creative projects to life. LinkedIn's MTP is to create economic opportunity for every member of the global workforce. Google's MTP is to organize the world's information and make it universally accessible and useful.
You see, that sense of purpose and direction is a powerful driver not just for you but it resonates with other people. It resonates with clients, it resonates with suppliers, it resonates with employees, it resonates with your broader community.
All of that is a reflection of authentic leadership. You could even say it's an emanation of authentic leadership.
If you want to cut to the chase and read about all 10 multipliers so you can download your free copy of the Thriving Coaches Scorecard book here in the Clarity Life Community.
You're going to discover what you need to do to…- Escape the "charge by the hour" trap and earn a healthy income- Have a "dream come true" impact in the lives of your clients- Develop the certainty, confidence and competence you desire- Grow your practice in ways that feel great and deliver real results
>> You can download your free copy of the Thriving Coaches Scorecard book here.
To your increasing clarity!
Big love
Jamie
Jamie Smart, Sunday Times Bestselling Author, Speaker and Executive Coach
PS You know how most people have a lot to deal with, a lot on their minds? We teach something that automatically clears your mind, and leaves you with the clarity and confidence that you have everything you need to solve your problems, make a difference in the world and enjoy life to the full.
Learn more at www.JamieSmart.com