CLARITY
Clear mind, Better Performance, Bigger Results by Jamie Smart

Learn to clear your mind and think like a winner

We all have so much going on. A million different projects, to-do lists longer than your arm. We all worry about things – money, deadlines. With all this buzzing around in our heads it's often a nightmare trying to concentrate on one thing. What if someone could show you how to empty your mind of all the noise? If you could be shown how to de-clutter your mind and concentrate on one important thing? Well Jamie Smart, state-of-mind specialist, can do just that – with Clarity he will show you how to get real clarity of thought.
When you enter your details on this pages, we'll give you instant access to the first 2 chapters of Jamie's International, Best-Selling book 'Clarity' at absolutely no-charge. Not only that, but you will also get access to Jamie's Clarity Resources Website featuring 48 brand new videos, audio's articles and PDF's
You'll learn how to clear your mind and become less stressed and more productive – and as a result, more confident in your abilities.
Clarity will help you to: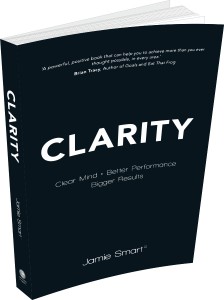 – Greatly improve your concentration and ability to think clearly

– Reduce stress levels and increase productivity

– Grow your confidence and self-belief

– Find innovative solutions to problems and make progress on goals and dreams

– Trust your intuition and improve your decision-making

– Build stronger relationships through better communication
Just enter your details right here on this page and you will receive an email with the download link
To your enlightened success!
Jamie Smart
p.s. The high-quality, FREE information you're signing up for here is our gift to you, no strings attached. There will be more great content to follow, and if you feel inspired to explore this area more deeply & take it further, we'll show you how, with paid-for products, live events & the like. As you may know, I provide massive amounts of high-quality, free information to hundreds of thousands of people around the world, making a positive difference in their lives. When you buy a product, book a place on a live programme, or share this page with a friend, you're playing YOUR part in making that possible. Either way, I hope you enjoy this gift.