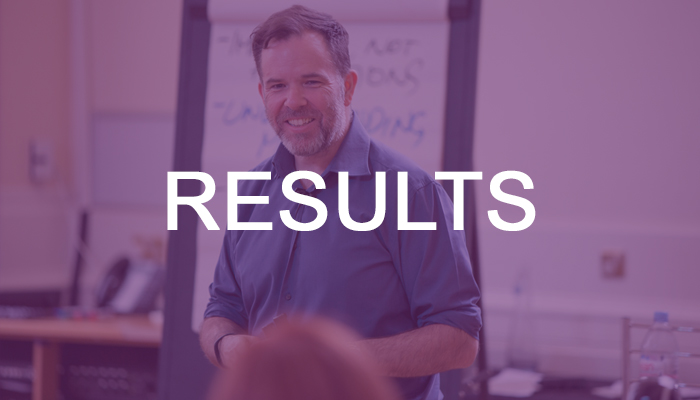 "One man's meat is another man's poison."
Ancient proverb
In this excerpt from my book RESULTS: Think Less, Achieve More (©2016 Jamie Smart), we're going to be looking at a powerful "value formula", and how you can use it to be more influential, and get the results that matter to you.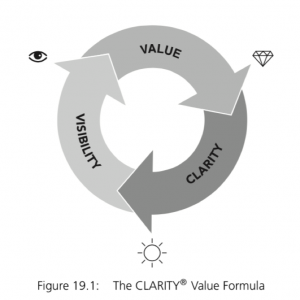 All over the world, people are creating value and getting rewarded for it. There's a universal 'value formula' that's used by everyone, whether they realize it or not.
It's used by companies who want to address new audiences and by churchleaders who want to grow their congregations.
Teachers use it to engage their students and teenagers use it to enlarge their social circles. It's employed by terrorist groups to attract recruits and by governments looking to change their citizens' behaviour. The CLARITY® Value Formula has three elements: visibility, value and clarity.
Clarity
Clarity of understanding allows you to see through contaminated thinking and move boldly forward to make a difference. Each of us is unique, with our own talents, abilities and perspectives on life.
Your uniqueness is an expression of your inner self; the 'true self' we referred to in Chapter 4. This is the source of your authenticity, resilience and common sense.
The more aligned you are with your true self, the more impactfully you can create value for others. The only thing that ever stops someone being aligned with their true self is contaminated thinking. But as your grounding in the principles behind clarity continues increasing, you'll find yourself acting from that place of security and certainty more frequently and reliably.
Visibility
Value is exchanged in the context of relationships. It's difficult for people to find your products or services if they don't know you or your company exist. It's difficult to create value for people if you don't know they exist.
If you want to create value for people, you need to become visible enough to each other for a relationship to be initiated. You don't need to be visible to everyone, but you need to become visible to the people you want to serve.
This may mean giving some thought to who you want to serve, and how you can become visible to each other.
Value
People don't pay for what you value; they pay for what they value. Whether they're paying with money, attention, time or energy; the more highly they value a result, the more they're willing to pay.
So what's the value you want to create, and how does it deliver the result your audience is looking for?
Understanding how your audience sees reality (i.e. their world view) allows you to create the value that meets their specific wants and needs; the things, experiences and results that matter to them.
Case Study: From time-based to results-based
John Wilkes was employed full-time working on marketing, pitch-development and client care for a consultancy.
He told me about his dreams of working for himself, with the income and time-freedom to be truly independent (John loves the outdoors, and wanted to spend less time working and more time fishing.)
I started asking questions about John's boss (the owner of the company):
"What results does your boss want?" He told me.
"Why does he want that result? Why does it matter to him?" John didn't know for sure, but took a guess.
I asked many more questions, "What problems keep him awake at night? What issues does he wish would just go away? What are his dreams? What does he wish would happen?" John knew some of the answers, but had no idea about others.
John realized that, while he'd been working there for many months, he didn't know that much about what really mattered to his employer. I tasked him with finding out and, by the next week, John had made himself more visible to his boss and got clarity about what his boss valued.
John was working long days for the consultancy (five days a week and sometimes six).
As he reflected, he realized much of that time was spent doing things that didn't directly contribute to the results that mattered most to the company.
I asked him, "What could you achieve if you organised your time and energy at work to focus only on achieving the results your boss values?"
By our next meeting, John had come up with a plan. If he eliminated all the superfluous activities, and focused only on results, he could deliver what his boss wanted at a much higher level than he was currently doing.
Best of all, he reckoned he could deliver these results working only three days per week (though they would still be long days). This would free up two days per week for John to work on his own business and go fishing.
Now came the challenging bit: John didn't just want to move from full-time to three days per week; he wanted to keep his existing salary!
John was anxious about even proposing this to his boss. He worried that it might damage their relationship, or even get him fired. So we worked on his grounding.
I asked him where he believed his feelings were coming from: the future, his boss's reaction, the thought of getting sacked etc. As we explored the nature of Thought, he fell out of his contaminated thinking and had an insight: he had a strong relationship with his boss, and realized that he would appreciate John's being honest and transparent with him.
While he still felt a little nervous on the day, he presented his proposal from a place of clarity, authenticity and connection.
After taking a few days to think about it, his boss accepted it, later revealing that he'd learned something valuable in the process. John's example underlined that what mattered to his business was results.
His boss realized that if he could rely on them being achieved to a high standard, then it made sense to pay people for their results rather than their hours.
That was six years ago.
John now runs a successful digital marketing agency, and has just launched hotfishin.co.uk, a website that connects fishermen with fisheries (imagine a kind of "Airbnb for fishing").
The fishermen get to explore new runs and book tickets online, while the fisheries get to maximise utilisation.
He's taken his use of The CLARITY® Value Formula to a new level, becoming visible to fisherman and fisheries, and creating value for both audiences.
His increasing grounding over the years has given him the courage, creativity and insight he needed to take action and play a bigger game. In the process, he's moved from selling his time to selling the results his audience values.
John unleashed his inner results-creator, and now he lives a life he once only dreamed of.
You can download two free sample chapters of RESULTS: Think Less, Achieve More and start unleashing your inner results-creator by going to www.JamieSmart.com/InstantResults
As you read the book, you're going to discover how to…
Clear your mind and increase your ability to get the results you desire
Eliminate the obstacles that have been holding you back until now
Amplify your influence and impact on other people
Get results in a way that's healthy, natural and enjoyable
To your increasing clarity and results!
Big love
Jamie
P.S. Your innate capacity for realization is one of a number of 'superpowers' you possess; the deep drivers you benefited from as you learned to walk.
You can find out about all eight of your "hidden superpowers" and start creating the results that matter to you and for you today by getting your copy of my brand new book 'RESULTS: Think Less, Achieve More' at www.JamieSmart.com/getresults
As you read the book, you're going to discover how to…
Clear your mind and increase your ability to get the results you desire
Eliminate the obstacles that have been holding you back until now
Amplify your influence and impact on other people
Get results in a way that's healthy, natural and enjoyable
Click the link below now to get your copy of the book and start getting RESULTS today!
To your increasing clarity and results!
Jamie