Released on August 7th, 2020
In this week's Friday Shot of Clarity, we're going to explore Multiplier Number Six — Results Creator.
Once again, impact is what people pay you for. It's your ability to help them create the results they desire and transformations they want to experience.
This 'multiplier' is the sixth in a series of articles taken from a tool and a short book I created a few years back for helping people grow their professional practices. It covers 10 'multipliers' that can amplify the impact and results you're creating in the world.
And while I created it with coaches, therapists and other transformation professionals in mind, I've had plenty of feedback from people outside those professions telling me how useful it is.
Whether you're a transformation professional or not, you're going to discover that these 10 multipliers apply to almost everyone (at least, with a little creativity).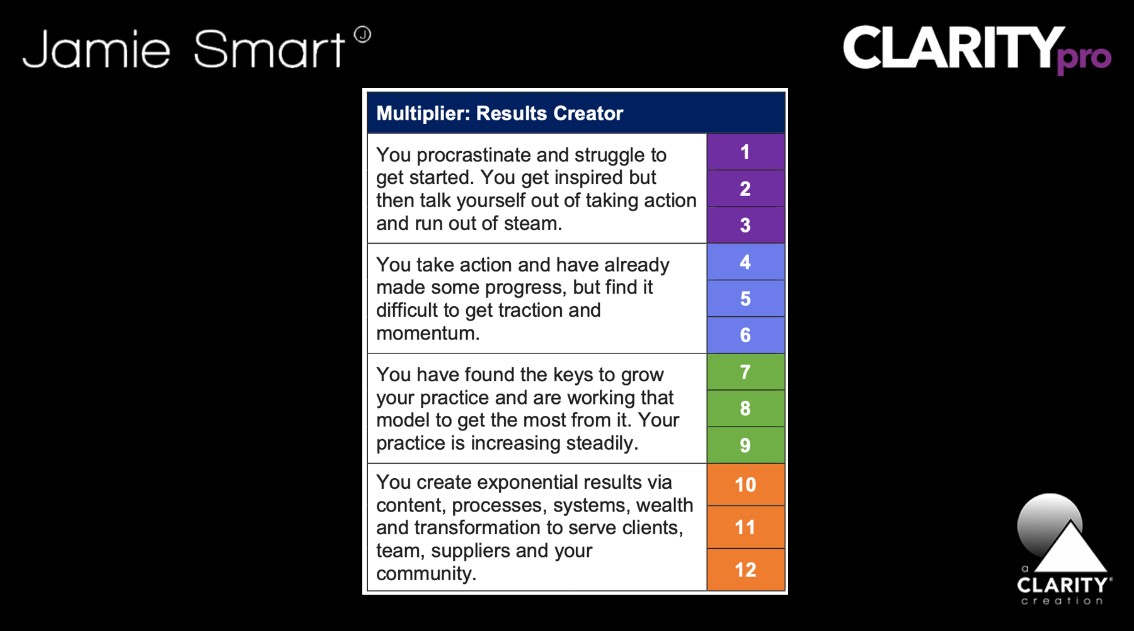 Multiplier Number Six: Results Creator
A big part of impact is your ability to create results and this is true from the micro to the macro level. At the micro level, your innate capacity to create gives rise to the questions you ask your clients or the metaphors and other ideas that come to mind as you speak with them. At a higher level, it's behind your ability to create things such as products, packages, articles and videos. At an even higher level, it's behind your ability to create a client, to create a tribe of followers, to create your exponential practice and to create a life you love.
In the first row (the "stuck" row), you procrastinate and struggle to get started. You get inspired but then talk yourself out of taking action and run out of steam. This is the result of contaminated thinking but as usual, you have reason to be hopeful. You see, the flashes of inspiration are there to point you in the right direction. The fact that you have them means you're connected to the source of creativity that exists within everyone.
In row two, you take action and have already made some progress but find it difficult to get traction and momentum. This is because people often expect to be inspired all the time however experience shows that's not a realistic expectation. Your feelings ebb and flow as your thinking ebbs and flows, so expecting to be inspired all the time is like expecting it to be sunny all the time. Part of being a results creator is being able to take action and create results, even when you don't feel like it.
In row three, you have found the keys to grow your practice and are working that model to get the most from it. Your practice is increasing steadily. This is what success looks like to most transformation professionals and it's usually the results of single-minded focus and determination. While focus and determination are incredibly useful qualities, there is a level beyond this.
At the exponential level in row four, you create exponential results via content, processes, systems, wealth and transformation to serve clients, team, suppliers and your community. Now, you're probably starting to see how this ties in with authentic leadership and some of the other practice multipliers. They all work together to create a force multiplier, and this is the basis for creating truly exponential results.
The key to making progress in this practice multiplier is to develop your creative process and the simplest way to do this is by using the CLARITY® Results Model.
It's very simple: Clarity + Action = Results, and you can remember it using the acronym "CAR".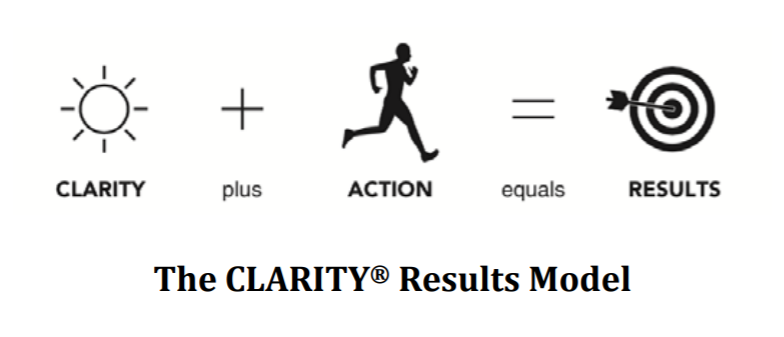 Here's the idea; whatever you're inspired to create, take the next step. While it's often hard to think ten steps ahead, you can always get clarity on the next step, however small it may be. As you keep taking the next step, you learn and get further clarity on the steps that follow. You see, there are things you will discover by taking action that you can never figure out in the privacy of your own head. 
Once again, remember "CAR": Clarity + Action = Results. 

Building on the "car" metaphor, novelist E. L. Doctorow once said, "Writing is like driving at night in the fog. You can only see as far as your headlights but you can make the whole trip that way." There are three powerful things implied by this simple quote. Number one, Destination: You have a sense of your destination that's good enough that once you get there you'll know you've arrived. Number two, Power: You have a power-source as a means of moving forward. In your case, the power-source is your own innate creative capacity. Number three, Navigation: You can respond to the ever changing environment and make adjustments where necessary. 
A great example of this is Marcus Fernandez. Marcus was already a very skilled transformation professional. He's a homeopath and runs a college in London with branches overseas. Working with Marcus we helped him expand his capacity to deal with the huge number of issues and challenges that come with running a large organization, without getting overwhelmed. He said, it gave him "clarity of decision-making, clarity of strategy, and clarity in situations that need immediate attention" That's a great description of the ability to create results. 

Another example is Clarity Coach, Marina Pearson. When we first started working with Marina she struggled to get clients. We worked on her grounding and her impact, and helped her develop her capacity as a results creator. In the next six months she delivered a TED talk, moved to her dream home, became pregnant after trying for years, created workshops that are filling with ease and started signing up high end coaching clients for the first time while enjoying the process.
She says, "Best of all, it's happened effortlessly, without me even noticing. Without the kind of stress and effort I'd always thought it would take. I've finally been able to stop searching and start living the life of my dreams!" And here's an important point; it's not that Marina hasn't worked hard; she has. But she's been able to create these results because she's had so much less of the contaminated thinking that held her back in the past. 

If you want to cut to the chase and read about all 10 multipliers so you can download your free copy of the Thriving Coaches Scorecard book here in the Clarity Life Community.

You're going to discover what you need to do to…- Escape the "charge by the hour" trap and earn a healthy income- Have a "dream come true" impact in the lives of your clients- Develop the certainty, confidence and competence you desire- Grow your practice in ways that feel great and deliver real results.
>> You can download your free copy of the Thriving Coaches Scorecard book here.
To your increasing clarity!
Jamie
Jamie Smart, Sunday Times Bestselling Author, Speaker and Executive Coach
PS You know how most people have a lot to deal with, a lot on their minds? We teach something that automatically clears your mind, and leaves you with the clarity and confidence that you have everything you need to solve your problems, make a difference in the world and enjoy life to the full.
Learn more at www.JamieSmart.com