And the enthusiasms continue. As ever, let me know what you think via twitter at @jamiesmartcom, on my Facebook page here, or in the comment section.
1. A quotation I'm LOVING this week
I'm not a big fan of Byron Katie's work, but it's clear to me that she's had a profound "enlightenment experience", and has seen deeply into the nature of reality. She nails it with this quote:
"As long as you think that the cause of your problem is "out there"—as long as you think that anyone or anything is responsible
for your suffering—the situation is hopeless. It means that you are forever in the role of victim, that you're suffering in paradise."
2. A recent podcast I was interviewed for
This week, my interview with Marc Mawhinney came out on the "Natural Born Coaches" podcast. It's a quick run through the principles behind clarity and how they play out in the world of growing a coaching practice. You can find it here.
3. This is beyond cool
Legendary "boy wonder" rock climber Hugh Herr lost his legs to frostbite. Frustrated with the quality of prosthetic limbs (which hadn't changed much since the first world war), he set out to design an up to date one. As a result, he's not only created a new generation of prosthetic limbs; he's become a better rock climber than he was before he lost his legs. Check out the literally super-human Hugh Herr.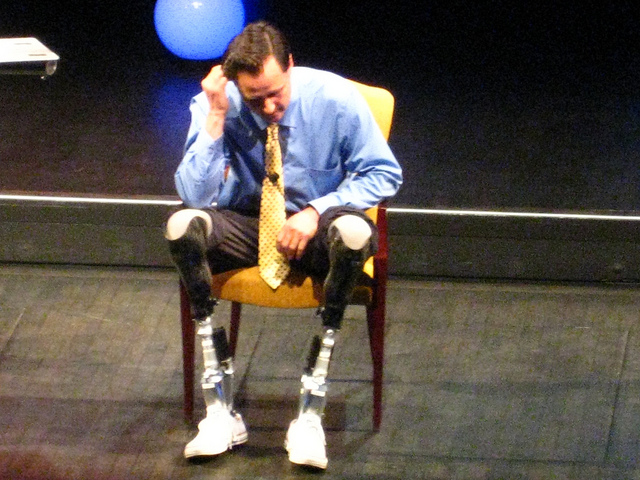 Photo courtesy of Awesome Inc and flickr
4. A sad poem, beautifully written
The poem What They Did Yesterday Afternoon by Warsan Shire is heartbreakingly beautiful. She had me with the image of the poet "folding at the middle like a five pound note". This is great writing.
5. This week's 3 minute miracle
Skinny Love by Bon Iver is one of those songs that stays with me. Here's the live version from Later with Jools Holland.
One last thing: Just over three years ago, I launched the first ever Certified Clarity Coach Training Programme. We've just completed the 3rd year, and we're building a close-knit community of highly-skilled, Certified Clarity Coaches and Practitioners. As well as the students who join us live in-person, we've got people training with us from all around the world (from as far afield as Brazil and Australia) via our state-of-the-art virtual technology. So I'm happy to announce the 2016 / 2017 programme, and we've made some changes. The programme is by application only, and the selection criteria is strict. We've just opened the door for applications, and we've put a strict limit on numbers (the first 35 people have already booked their places) – so register your interest now to make sure your hat is in the ring. Flexible payment plans are available, and the price goes up at the end of August, so look sharp!
>>> You can find the full details here https://www.jamiesmart.com/clarity-coach-training-sh/
That's it for this week. Enjoy!
Big love
Jamie
PS If you want to follow me on snapchat, you can find me at @jsmart999 or scan my snapcode below: